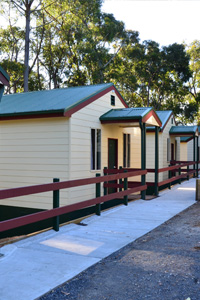 Oasis is proud to offer your campers top quality accommodation facilities. We have 155 beds in cabins with ensuites, which are all carpeted and heated. Each cabin has either 3,6,7,8, 10 or 12 bunk beds and all meet Safety Standards.
IN TOTAL, WE HAVE UP TO 155 BEDS (Oasis Sleeping Plan or Site Plan)
Click Here to See a Video of Camp Oasis.
Click Here to See a Video of Some of Our Locals.
The Dining Hall
Our main hall/dining hall is carpeted, has both ducted heating and a slow combustion wood heater and has been acoustically designed. The room is also equiped with a ceiling mounted electric screen, portable data projector and P.A. system. Wi-fi available on request.
Additional meeting rooms and games rooms are available for use. We also have a leaders retreat/first aid room located just off the main dining room – especially useful if the kids get a bit too loud and you need a time out.
At Oasis we are committed to updating & improving the site and its facilities each year.
Theatre Room
Our conference room is fully carpeted and is the ideal facility for a movie night or for presentations. It has a data projector, DVD/Blu-ray player and can be hooked up to a laptop or computer. It also features 5.1 surround sound.
A carpeted basketball court is available for a variety of activities. Great for when the weather prevents other outdoor activities. Chairs, trestle tables, and roll-out stage available on request.
Breakout Room fitted with acoustic panels, a split-system reverse cycle air conditioner, chairs and a whiteboard.

Basement Room (Breakout Room)
This is one of our smaller Breakout Rooms.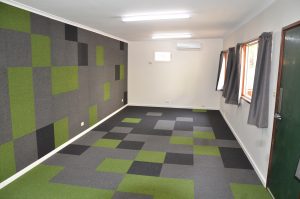 Green Room
The newest addition to our Breakout Rooms.
This acoustically dampened room has split system air conditioning.
There is a games room located just off the dining room hall. It is equipped with 2 pool tables, table tennis table, air hockey table and a foos ball table. This room is great for free time.
Staff Lounge
The Staff Lounge room doubles as a firstaid/medication room and provides a place for teachers to get some R&R during a busy program.
Accommodation
All rooms are carpeted, heated and en-suited. (Some rooms are shared en-suits) The rooms are comprised of either 3, 6, 8, 10 or 12 beds spread over 4 cabin blocks: Acacia, Banksia, Dogwood and Eucalyptus. Or see the Sleeping plan for more details.
Aerial View of Oasis (turn down volume)